Digital Lean Management Consultancy
Digital Lean Management is a business management methodology which pursuits the maximum efficiency by erasing all the elements that increase the costs or do not add value to the product or service. Some examples are wastes, overproduction, anomalies and defective pieces.
This concept is based in Lean Manufacturing, a production system deployed by Toyota where every overcost is erased without the need of any investment in machinery or technology.
The main goal of Digital Lean Management is to produce more with less. This is achieved by optimizing all the resources that the company has. Digital Lean Management is applied to all the product life-cycle: material purchases, production, storage, delivery, sales... every process can be optimized.
Digital Lean Management benefits
The biggest advantage of Digital Lean Management is the productivity. Like the company is performing with all assets, they can offer their products at a lower price without dropping their margin. Related to productivity, we find storage cost reduction since the company will only have the products that will be sold.
This also requires a greater auto-control of the inputs that the company uses in production and the products that they make, thus the quality will increase. Thanks to more staff training about quality standards they will be able to do this task and feel more involved at work.
KPI: if is not measured it cannot be improved
To know which processes need to be improved, we must analyze them and translate it into Key Performance Indicators. In this part is essential the data quality so they can reflect the reality.
Product quality, efficiency, losses, accident rate, delivery time... are some of the moist common KPIs. Is crucial that both operators and direction know them well. With good KPIs we can align individual goals with the ones that the company has.
Key Performance Indicator must serve to involve and motivate beside of measuring the performance of the company.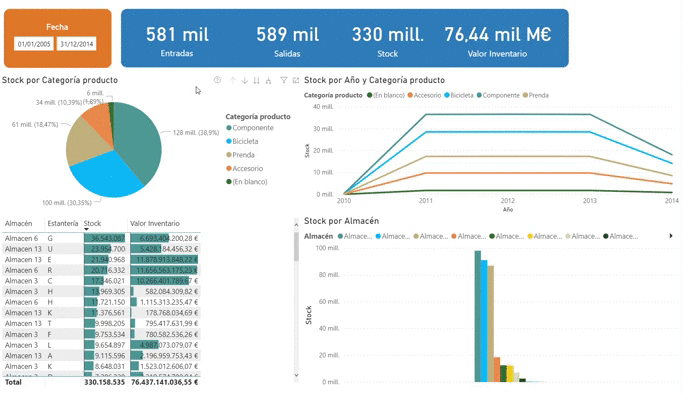 Digital Lean Management in Industry 4.0
Nowadays we live in a Digital Transformation known as the Fourth Industrial Revolution or Industry 4.0. The two main factors are automation and digital innovations in production process.
This revolution is due to a simultaneous confluence of technological factors (IoT, Big Data, 5G, cloud, artificial intelligence ...) that its early adoption provides a competitive advantage. In fact, companies that do not join the change in time will find it very difficult to remain profitable.
In Industry 4.0, everything is registered, whether it is CRM or ERP, robot files, a smart warehouse... so everything can be measured and therefore, optimize. Thanks to this, it is easier to be able to apply the Digital Lean Management methodology to identify the business areas that need changes.
Our Solutions
We offer services for digital transformation. Business Intelligence to monitor the productive processes of the company and its performance, in addition to Data Science that through algorithms and techniques of Machine Learning allows the company to take advantage of its data to apply business solutions such as predictive maintenance, customer segmentation, automation of repetitive tasks or product recommendations among others.
We also have the people and technology to carry out Big Data projects and implementations and modifications from Data Warehouse. Also, we have partnerships agreements with companies that implement business management softwares such as ERP, CRM and SGA.
I want to implement the Digital Lean Management methodology in my company